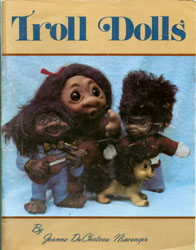 1982 Troll Dolls by Jeanne DuChateau Niswonger
This is a fun book, in a magazine style. Lots of cute and homey little drawings and pictures of trolls. Also a super cool section of vintage catalog reprints. Not a whole lot of info about trolls, but there are some nice pictures and such that I havenít seen anywhere else. Definitely a good reference piece for any vintage troll crazed maniac!

1981 Trolls by Susan Miller Collector Books
This little book is cute and well organized. She includes many different types of trolls, but the photos are all black and white. This little book is the first? about Trolls, so the terms inside are somewhat antiquated, but who cares? Just keep wishing the pictures were in color when I look through it.