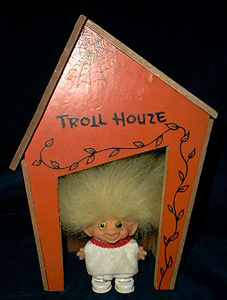 DIG THOSE CRAZY CAVE SOUNDS, BABY!

Favorite Sites
PETRIES PLAYHOUSE AN ONLINE DAM TROLL PHOTO GALLERY, THE DROOL PAGES FOR TROLL LOVERS! MUST SEE IF YOU LOVE TROLLS!
ARCHIE MCPHEE'S KITCHSY GIFTS FOR YOUNG AND OLD

GOBLIN KING AWESOME WEBSITE FOR VINTAGE TROLL ENTHUSIASTS, MUST SEE!
LOUIE LOUIE WEBSITE EVER CURIOUS ABOUT THE SONG "LOUIE LOUIE"? THIS SITE HAS EVERYTHING YOU'VE EVER WANTED TO KNOW ABOUT THE INFAMOUS SONG AND THE MANY CONSPIRACIES BEHIND IT. COOL MUSIC SITE FOR MUSICAL FOLKS.
TROLL CALL A COOL WEBSITE FULL OF LOTS OF NEAT TROLLS, CHECK IT OUT FOR THE PICTURES OF THE THOMAS DAM WOOD CARVINGS!